Spa Services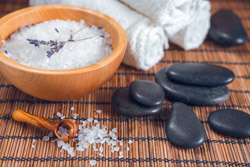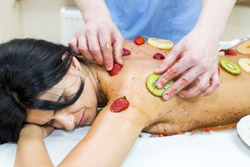 "Back Beauty" Cleansing Back Treatment
$115
Includes a massage, scrub, brushing, deep port cleansing, and masque.
Solace Mud Treatment
$115
This heavenly treatment is ideal for dry or oily skin.
Body Polish
$115
Stimulates circulation and replenishes moisture in the skin.
Deep Sea Salt Glow
$115
An invigorating exfoliating treatment is followed by a light massage.
Indian Sunset Mud Wrap
$130
Includes a citrus exfoliation, warm Sedona mud wrap, and oil massage.
Ayurvedic Body Wrap
$130
This wrap uses the regenerative properties of plants, herbs, roots, and mineral; followed by a soothing shower and aromatherapy massage.
Green Tea Mint Body Wrap
$130
Stimulates, heals, and detoxifies.
Chocolate Body Mousse
$130
For stressed, dehydrated or flaky skin, and cellulite.